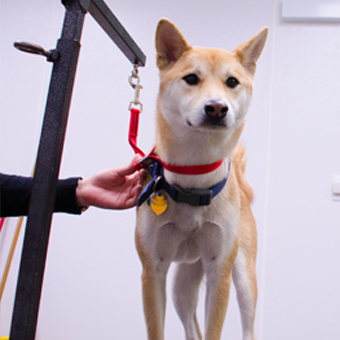 Grooming, Bathing and Nail Trims at Animal Hospital of Western Springs
At Animal Hospital of Western Springs, we offer a variety of grooming services for your dog or cat. Grooming is an essential part of your pet's health, so let our trained staff make sure that your pet is groomed correctly for its breed and specific needs.
Grooming Services Offered:
Grooming
Regular grooming at our animal hospital is an important part of preventive medical care, and can help prevent serious medical problems down the road. It also helps significantly decrease shedding! By having your pet groomed regularly, you can help detect skin infections, irritations, allergens and growths before they become a problem. Our experienced staff members have the appropriate tools to brush and trim your pet's hair, so they are happy and healthy all year round!
Bathing
Dogs require regular bathing to keep their skin and coat healthy and brushing between baths will get rid of tangles and mats. Depending on the breed and fur, dogs' vision and hearing can be impaired or damaged with overgrown hair. Matted hair can cause painful skin infections and can escalate to more severe issues very quickly. Regular bathing is vital for your dog's overall health.
Nail Trimming
A good sign if your dog's nails are too long if you can hear them tapping when your pet walks. Long nails can get caught in carpets or cause them to slip, which is especially dangerous for older dogs. If left unkept, nails can curve around and grow into the feet, causing pain and infection. For cats, long nails can curl too much, get caught in things and are quite sharp, which can damage household items. Regular trimming is a great way to keep this at bay.
For more information on our dog grooming services or to schedule an appointment, please give us a call at (708) 550-1111(708) 550-1111.