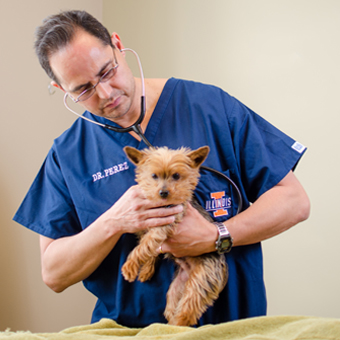 ABOUT US
Animal Hospital of Western Springs is a new state-of-the-art facility located near the corner of 55th Street and Wolf Road in beautiful Western Springs. Dr. Perez and his staff members have over twenty-four years of practicing the art of veterinary medicine.
Our Western Springs vet, Dr. Ernesto Perez graduated from the University of Illinois School of Veterinary Medicine at Urbana-Champaign in 1994 and has been practicing veterinary medicine ever since!
Our philosophy is simple: Provide clients and their loved companion with the latest and best veterinary services possible, paired with the utmost care and compassion possible.
We take pride in the fact that our practice is privately owned, not through a corporation. This means we never take a "cookie-cutter" approach to each client and their pet's condition. We understand that each pet may require a customized approach in order to help solve the pet's health issue and we also consider the client's input in deciding the best approach for each situation. Our office is very flexible and will work with every pet parent during each and every step of the appointment process. Call us today to see how we can help your pet at (708) 550-1111(708) 550-1111.