The Latest News for Western Springs Pet Owners
The veterinarians and staff at the Animal Hospital of Western Springs are pleased to provide you with an online newsletter. This fun and fact-filled newsletter is updated on a regular basis. Included in the newsletter are articles pertaining to pet care, information on Animal Hospital of Western Springs, as well as news on the latest trends and discoveries in veterinary medicine. Please enjoy the newsletter!
Current Newsletter Topics
May is National Chip Your Pet Month: Is Your Pet Protected?
Each year, millions of dogs and cats are lost. In fact, this disaster strikes nearly one-third of all pet-owning families. Of the millions of cats and dogs that are lost, only 10 percent are ever identified and returned to their owners. More pets lives are lost because owners did not identify them than from all infectious diseases combined.
All pets should wear traditional collars with identification and rabies vaccination tags. A traditional collar, however, is not enough. These collars are often worn loosely and are easily removed. Cat collars are designed to break off if the animal is caught in a tree branch. When the traditional collar is lost, removed or breaks off, nothing is left to identify the pet unless the pet has a microchip.
Microchips are rapidly becoming a very popular method for identifying pets. Once the microchip is inserted, the pet is identified for life. Microchips are safe, unalterable and permanent identification for pets. The microchip is a tiny computer chip or transponder about the size of a grain of rice. The chip is inserted under the skin between the shoulder blades of a cat or dog, in much the same way that a vaccine is administered. The microchip is coded with a unique 10-digit code. Each microchip that is inserted contains a unique code, specific to the individual pet.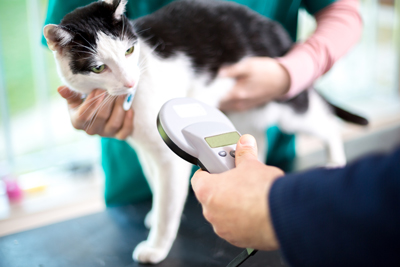 Inserting the microchip is simple and causes minimal or no discomfort. The microchip comes pre-loaded in a syringe, ready for insertion. The entire procedure takes less than 10 seconds. Post-injection reactions are very rare and the encapsulated microchip remains in place permanently.
The scanner is a hand-held device used to detect the message encoded in the microchip. The scanner is passed over the animal, paying particular attention to the area between the shoulder blades. If a microchip is present, the 10-digit number (encoded in the capsule) is read by the scanner. Scanners are provided to animal control, humane shelters and other rescue organizations so that all stray pets are scanned and those with microchips are reunited with their owners. Veterinarians can also purchase scanners for use in their hospital.
The veterinary hospital where the microchip is implanted records the pet's information and its unique microchip identification number. When a lost pet is found and scanned, the veterinary hospital is immediately contacted. Since most veterinary hospitals are not open 24 hours a day, it may take some time before you are notified. In addition to this standard registration, you can register your pet in your own name for a charge of $15-20. By doing this, as soon as your pet is found, you are notified.
Along with the additional registration fee, we recommend that you update your personal information with the microchip database on a regular basis. It is also advisable to have your veterinarian test the microchip on an annual basis in order to make sure that it is properly transmitting data.
May is Intestinal Parasite Awareness Month
Did you know that 34 percent of pets are infected with intestinal parasites?
The close relationship between people and their pets increasingly means parasite infections can be shared among dogs, cats and their owners. The Center for Disease Control (CDC) estimates that 1 to 3 million people are infected with an intestinal parasite in the United States. Children are at particular risk.
The Companion Animal Parasite Council (CAPC) recommends that fecal examinations for intestinal parasites be conducted at least once a year. In addition, if children are present in the household, the CAPC recommends that you de-worm your pet quarterly.

To help raise awareness we will perform free fecal examinations (a $16.50 value) during the month of May, limited to one pet per household.
How to Help Your Children Cope with Pet Loss
Breaking the news to a child that his or her pet has died is never easy. How you go about this will depend on your child's age and maturity. Generally, your child's questions will best help guide just how much information you should divulge. It is not recommended that you use the term "put to sleep" or lie by saying the cat or dog simply ran away or left home to be somewhere else. You don't have to have all of the answers – there's a lot we don't know about death. Being honest with your child is what matters most.
Helping Your Child Heal
Children are at a different developmental stage than adults and thus will mourn differently. Although they may seem happy and be playing one minute, they can be sad the next. Their grief comes in spurts and it's important to allow them to work through grieving in their own ways. Being honest about your own feelings and sadness (no need to hide your tears) is completely healthy and sets the example that feeling your emotions is not a bad thing. Your child will come to model the behavior you display.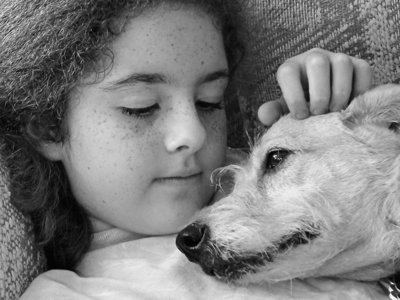 "Healthy children will not fear life if their elders have integrity enough not to fear death."
-Dr. Erik Erikson
Your child will begin healing through remembering his or her pet. You can assist with this by:
• Planning a memorial service together to pay tribute to the pet
• Planting a flower or tree in remembrance
• Creating a personalized marker or stone
• Creating a photo album or scrapbook together
An excellent online resource for young children is the "I Miss My Pet: A Workbook for Children About Pet Loss."
Stem Cell Treatment Helps Arthritic Pets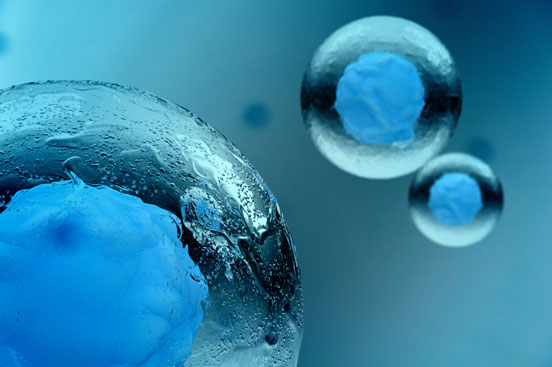 A new treatment for arthritic pets using stem cells is being implemented in some veterinary hospitals, and veterinarians say the treatment is more effective and easier than the types of treatment used in the past. The method involves using stem cells from the animal's fat to inject into arthritic joints, which relieves pain and limits the need for anti-inflammatories.
In the past, veterinarians would use stem cells from bone marrow, which, after extraction, take weeks of cultivation before they are ready to be used. Using stem cells from the animal's fat cells, however, reduces the treatment time to one day. According to Gil Sinclair, a veterinarian in New Zealand who is piloting the treatment there, 80 percent of animals show an improvement. "[This treatment] could basically replace day-to-day anti-inflammatory tablets and injections," he said.
Quiet! Solutions For Barking Dogs
The first five reasons for barking are rarely the cause of excessive or annoying barking. They are usually specific to certain situations and are short-lived. The sixth and seventh reasons are those most likely to be considered problem barking, and they are not unrelated. Barking for companionship can turn into barking for reward: The dog barks to get its owner's attention, the owner comes to the dog to tell it to be quiet, perhaps petting it or playing with it, before going away again. The dog is quiet while the owner is there, but has learned that barking will bring the owner back. Thus the system of barking and reward is established.
A solution, again, is to spend more time with your dog and have it near you rather than tied up somewhere separate from you. However, if your dog is separated from you and it begins to bark to get your attention, do not immediately go to the dog. It must learn that barking will not guarantee your presence. By spending more time with the dog at regular intervals not instigated by barking, your dog will feel more assured that it will get sufficient attention from you and will not have as much inclination to bark for companionship.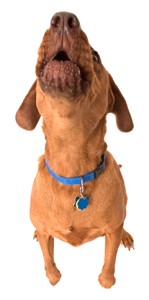 Teach Your Dog To Stop Barking By Understanding Prevention Steps
How do you teach a barking dog to distinguish between friends and strangers?
The solution is to show the dog that certain individuals like garbage collectors or the mailman are, indeed, friends. To accomplish this, the dog has to be introduced to these people and given an opportunity to get to know them. While this is not always practical, it is nonetheless a potential solution. As you restrain your dog, stop delivery people and have a short conversation with them, letting them meet the dog for a brief period. Repeat and lengthen the process over the next few weeks. Eventually, your dog should accept these individuals and all should be well until your regular mailman is sick and another person takes his place.
What do you do with a dog that barks at guests in your house?
One solution is to take the dog to another room and give it something to do. Or, if the guest comes to your home often and you don't want to have to lock up the dog every time, work to gradually introduce one to the other. Have the guest get on his knees, pet the dog, offer it a treat, and more or less become part of the family. Let your dog establish the speed at which this relationship develops: Don't force it or your dog may become alarmed by a pushy guest.
How do you deal with a dog that barks at the phone?
This is simply a case of a dog that has been rewarded for barking at a ringing phone. When the dog barks, someone eventually answers the phone and it stops ringing. To stop your dog from doing this, have a friend call and let the phone ring until the dog loses interest. Continue over a period of days, and in time, the dog will learn that barking at the phone accomplishes nothing.
Finally, what do you do with the dog that barks while you are away from home?
There are several possible solutions. One is to act as if you are leaving, then stand outside the door until the dog barks. When it does, return and scold verbally. Another is to get your dog a companion—but you might end up with two barkers! A third is to use a sound-activated tape recorder. When the dog barks, the sound switch turns on the tape recorder for a minute. The tape plays your voice scolding the dog. Some systems can repeat as many as 45 times while you are away.
The best way to reduce your dog's barking is to pay attention to the reasons for the barking. If you can satisfy the dog's needs, barking will automatically be reduced. By the same token, learned barking can be extremely persistent. Internal rewards can cause the cycle to go on for years.
The best solution to barking is prevention, so be aware of the possibilities and work to stop problem barking before it starts.